APT Medical is delighted to announce our participation in the anticipated MLCTO 2023, which will take place in Nice, France from June 28th to July 1st, and we are proud to be the Ruby sponsor again after great success last year. In addition, we are excited to announce our partnership with MLCTO for the exclusive sponsored symposium on June 28th.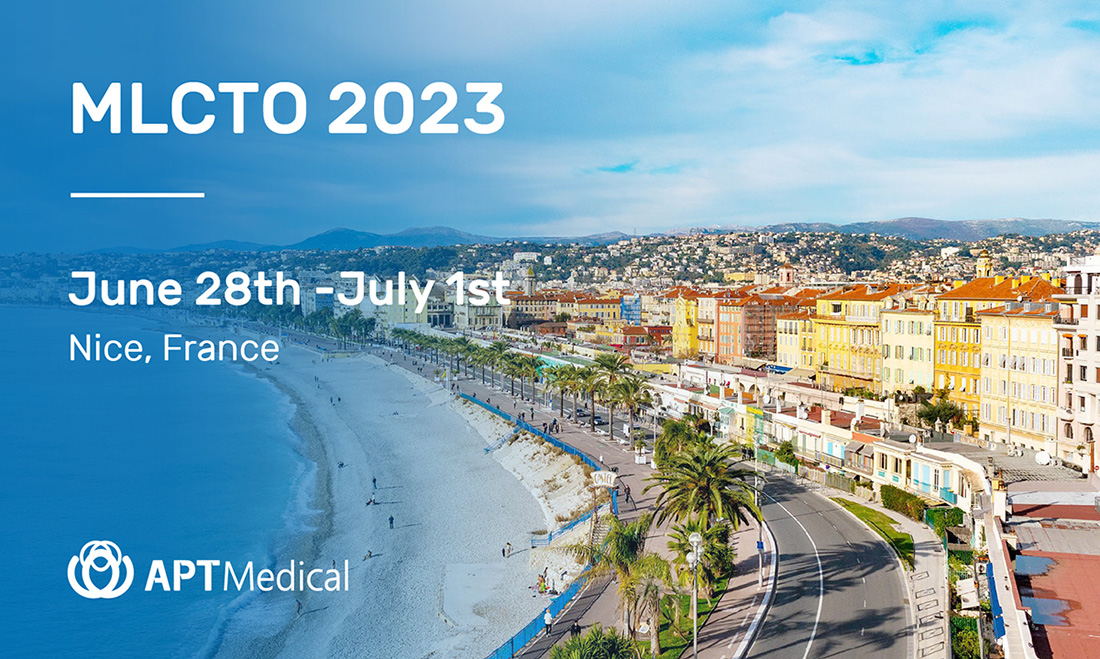 As a globally recognized conference, MLCTO (Multilevel Chronic Total Occlusion) brings together the brightest minds and practitioners in the field of complex percutaneous coronary intervention (PCI).
At MLCTO 2023, APT Medical will showcase our latest and innovative product portfolio, specifically to tackle the challenges encountered during complex PCI procedures. Welcome to visit our booth and interact with APT Medical team, learn about our cutting-edge medical devices, and we are eager to introduce you to the unique features designed to enhance patient outcomes.
APT Medical second highlight is the live case, which will be performed by Dr. Alexandre Avran, Course co-directors of MLCTO. After the successful completion of a very long calcified RCA CTO case last year sparked heated discussions, let's look forward to what surprises he will bring this year, please stay tuned to the Live Case #7 on June 30th!
Most importantly, APT Medical is proud to exclusively sponsor a symposium on June 28, centered around the theme "Be More Resourceful for Symphony of Complex PCI". This engaging symposium will feature distinguished experts in the field who will share their invaluable insights, experiences, and expertise in optimizing outcomes and navigating complexities in complex PCI procedures. Attendees can expect an enriching learning experience and be part of thoughtful discussions with industry leaders. The half-day symposium will start at 14:00 and end at 17:10 on June 28, one day before the congress.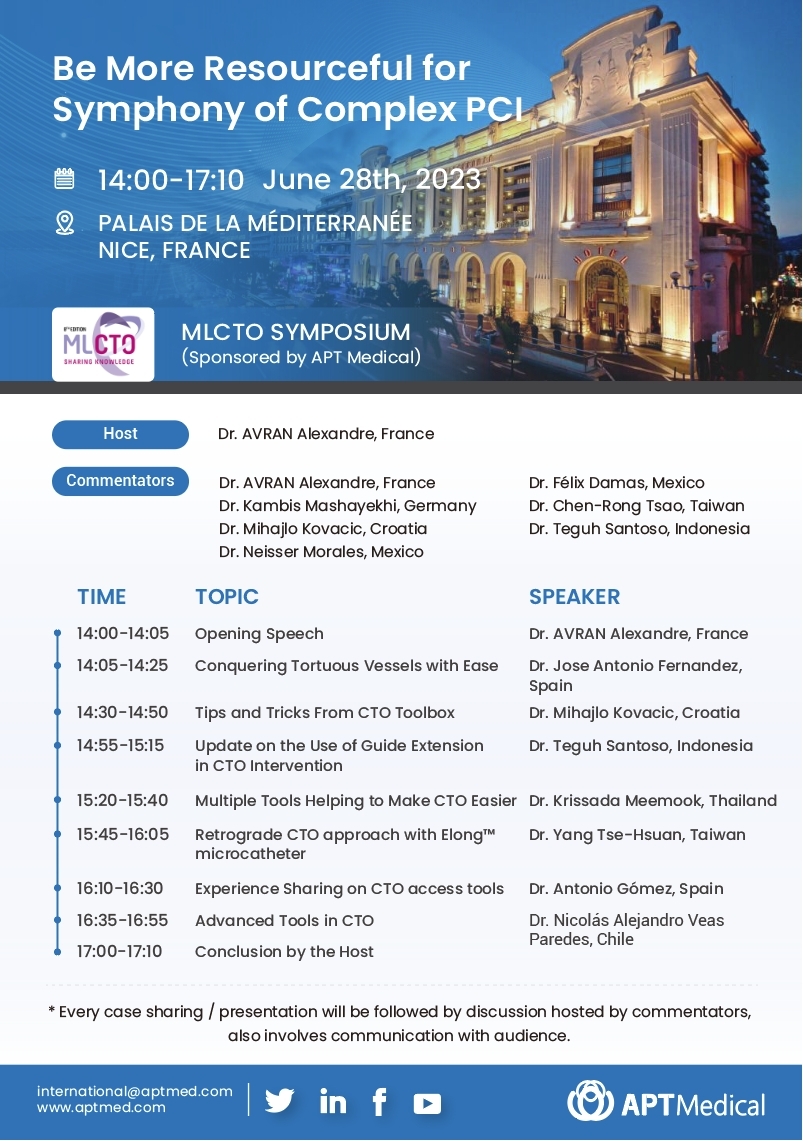 Meanwhile, APT Medical extends a warm invitation to all MLCTO 2023 attendees to visit our booth and attend our sponsored symposium on June 28th. This unique opportunity will foster networking, as well as collaborative learning, and shape the future of complex PCI procedures.
For more information about APT Medical and our product portfolio, please visit our website.
www.aptmed.com
About APT Medical:
APT Medical, a leading manufacturer and supplier of EP and Vascular Intervention medical devices, is committed to advancing the interventional medical field utilizing technologies and innovations. With a focus on improving patient outcomes and enhancing procedural efficiency, APT Medical offers a comprehensive range of advanced products designed to address the complexities of cardiovascular interventions. With a commitment to excellence, APT Medical strives to empower healthcare professionals and shape the future of interventional cardiology.